Online Banking Benefits: 
Quick and Easy access to your accounts 24 hours a day

Transfer between accounts right from your computer 

No more waiting for statements to reconcile your accounts 

Access to previous statements and transactions
Check & deposit images available immediately for you to review from your computer the instant they clear your account 

It's free!

Logging In
Login using the entry box at the top right of your screen. You can also visit  bank.washsb.com to access the login page directly and it will resemble the one below.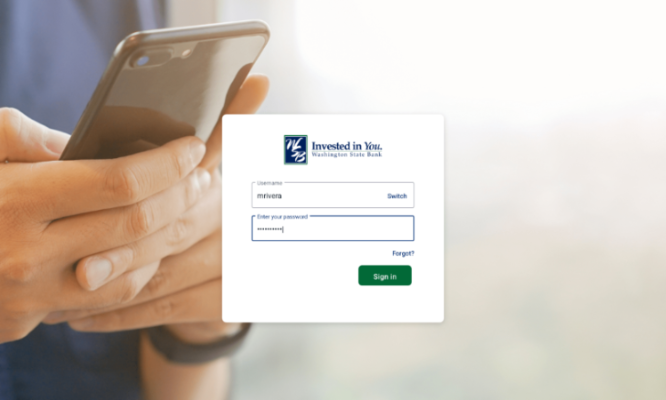 What is my username and password?
Your current username and password will be used in the new system as well. Can't remember your password? Click the hyperlink 'Forgot' underneath the text box to have it reset or give us a call at (800) 714-2287.
Two-Step Authentication
Two-step authentication is an added form of protection. You can choose your preferred method to confirm your identity and then finish the remaining steps to complete the verification.

The Dashboard
Below is an example of what you will see when you login. If you've been using Mobile Banking, you will notice the similarities. Your menu bar will be found vertically on the left, your list of accounts under your name, followed by a variety of features available to you.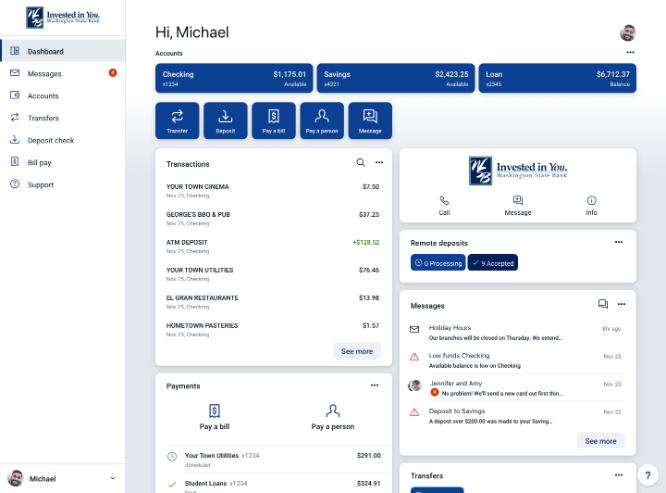 Online Banking 101
Click the title below for a more detailed "how-to" on the following features!
Bill Pay


Bill Pay Benefits: 

No more having to write checks, pay for stamps, mail your payments - we'll do all of that for you. 
Pay your friends and family members with the Pay-A-Person feature.
Streamline monthly bills by setting up recurring payments

With Bill Pay, the bank pays your bills for you, therefore keeping your account safe. 
Other available features:
Conversation

Chat with a Personal Banker about transactions you might see in your accounts or any other banking questions you may have. Click 'Messages' on the menu bar or the blue icon on the dashboard. Once a conversation has begun, you will be notified of an approximate response time and receive another notification when the Personal Banker has sent a response. From here you can attach a transaction, account, payment, or file.