Online Holiday Shopping Tips - Dec. '23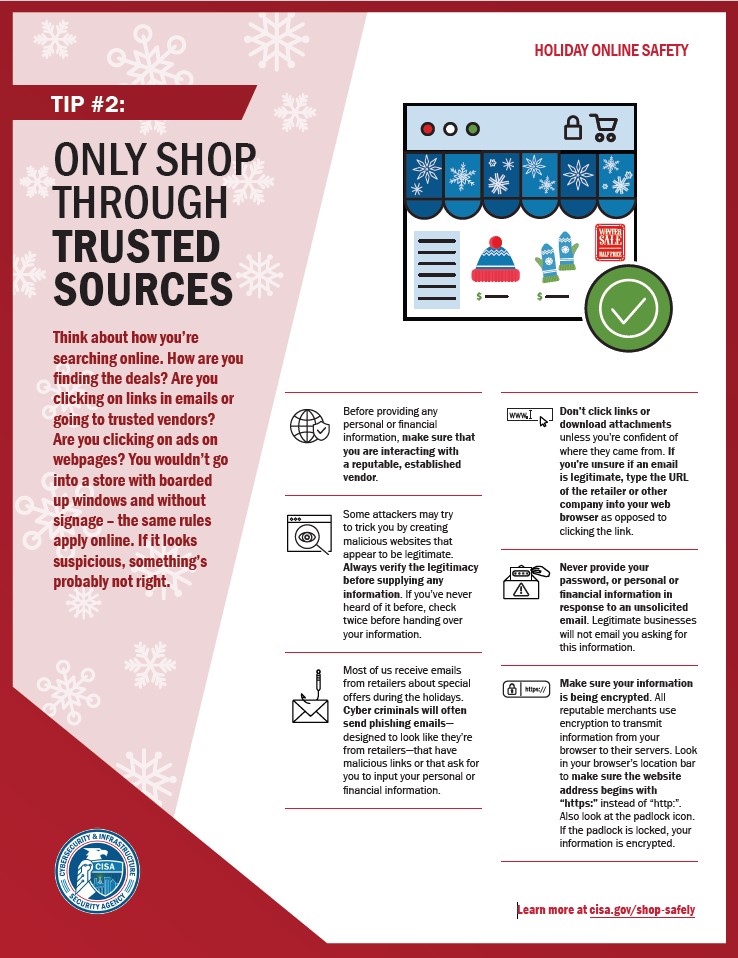 Click here to view PDF version
Shop securely, use your Mobile Wallet – Nov. '23
Add your Washington State Bank cards to your mobile wallet
No matter how you choose to shop, your mobile wallet makes it even easier to pay. Simply add your Washington State Bank cards to Apple Pay®, Google Pay™ or Samsung Pay. Then you can enjoy a new secure way to pay — in-person, in-app or online.
Here's why you should set up your mobile wallet today:
Reduce fraud
Your actual card number is not stored in your mobile wallet and never used when you make a purchase. Instead, a separate token account number is assigned when you load your credentials to the wallet. Your transaction information is encrypted, making for a secure shopping experience! These payment codes are unique to every transaction, so they can't be reused by a fraudster for another purchase. Your mobile wallet is also protected by your device's security settings, so only you can unlock it with your biometrics and passcodes.
Save time & make contactless payments
We know your time is precious and most purchases take only a few seconds to complete. Just hold your mobile device over the payment terminal at the store after activating your wallet and selecting the card you would like to use. You can pay in an instant when you shop online or within an app too by simply choosing your Washington State Bank cards from your mobile wallet. Your mobile wallet pulls in your credentials automatically — so you don't have to look for your card or type in your information. You can make a safe, touch-free transaction with your cards. There's no need to present a physical card when you're shopping in person.
Need help? Click here for more information and links to your phone provider's troubleshooting page.
---
How To Avoid a Scam- Oct. '23
Four Signs That It's a Scam
Scammers PRETEND to be from an organization you know.
Scammers often pretend to be contacting you on behalf of the government. They might use a real name, like the FTC, Social Security Administration, IRS, or Medicare, or make up a name that sounds official. Some pretend to be from a business you know, like a utility company, a tech company, or even a charity asking for donations.
They use technology to change the phone number that appears on your caller ID. So the name and number you see might not be real.
Scammers say there's a PROBLEM or a PRIZE.
They might say you're in trouble with the government. Or you owe money. Or someone in your family had an emergency. Or that there's a virus on your computer.
Some scammers say there's a problem with one of your accounts and that you need to verify some information.
Others will lie and say you won money in a lottery or sweepstakes but have to pay a fee to get it.
Scammers PRESSURE you to act immediately.
Scammers want you to act before you have time to think. If you're on the phone, they might tell you not to hang up so you can't check out their story.
They might threaten to arrest you, sue you, take away your driver's or business license, or deport you. They might say your computer is about to be corrupted.
Scammers tell you to PAY in a specific way.
They often insist that you can only pay by using cryptocurrency, wiring money through a company like MoneyGram or Western Union, using a payment app, or putting money on a gift card and then giving them the numbers on the back of the card.
Some will send you a check (that will later turn out to be fake), then tell you to deposit it and send them money.
How To Avoid a Scam
Block unwanted calls and text messages. Take steps to block unwanted calls and to filter unwanted text messages.
Don't give your personal or financial information in response to a request that you didn't expect. Honest organizations won't call, email, or text to ask for your personal information, like your Social Security, bank account, or credit card numbers.
If you get an email or text message from a company you do business with and you think it's real, it's still best not to click on any links. Instead, contact them using a website you know is trustworthy. Or look up their phone number. Don't call a number they gave you or the number from your caller ID.
Resist the pressure to act immediately. Honest businesses will give you time to make a decision. Anyone who pressures you to pay or give them your personal information is a scammer.
Know how scammers tell you to pay. Never pay someone who insists that you can only pay with cryptocurrency, a wire transfer service like Western Union or MoneyGram, a payment app, or a gift card. And never deposit a check and send money back to someone.
Stop and talk to someone you trust. Before you do anything else, tell someone — a friend, a family member, a neighbor — what happened. Talking about it could help you realize it's a scam.
Report Scams to the FTC
If you were scammed or think you saw a scam, tell the FTC at ReportFraud.ftc.gov.
This article comes from the FTC: https://consumer.ftc.gov/articles/how-avoid-scam#avoid
---
How to Create a Strong Password – Sep. '23
As our lives continue to become more digital, the need for password protection has increased to secure our devices and accounts.
The Elements of a Strong Password
Strong passwords consist of letters, numbers, and characters making them harder to guess. Longer passwords increase the number of possible variations and therefore make it harder for cybercriminals to crack.
An extra character could add years to the amount of time it takes for a bad actor to crack the code and obtain your password in a brute-force attack. In these types of attacks, hackers use programs to try various combinations of letters, numbers, and symbols in search of the right password. They try multiple passwords in split seconds and are more likely to correctly guess short passwords consisting of only letters and numbers.
Making something easy to remember and harder to guess can be as simple as using a passphrase and tossing in a few symbols and numbers that only you know. The extra complexity is worth your time. According to this tool, a complex 12-digit password takes 117,399,454 years to crack. On the flip side, a computer can crack a 5-character password in under a second.
Passwords to Avoid
A good password is difficult for someone else to guess or crack. Generic passwords like "password" or "12345" are easier to guess. A strong password uses the entire keyboard. "Qwerty" is another common password due to these letters being right next to each other on the keyboard. If it's easy for you to type, it's easy for hackers to guess. 
Avoid using personal information. Passwords that use your nickname, date of birth, or your pet's name could make you vulnerable to hackers who may find out your password by looking up your public information and social media profiles. 
How to Create a Strong Password
Use a password generator.
A password generator is a tool that automatically generates strong, secure passwords. It can help you come up with a sequence of random symbols to use as a password for any device or account needing restricted access.  Another tip is to choose a passphrase rather than a password. Passphrases take the first letters, numbers, and punctuation to generate what appears to be a random combination of characters. The perceived randomness makes it more difficult to guess or crack by brute force. For example, "Green Bay won the first Super Bowl 35-10" becomes "GBw1stSB3510."
A different password for each account you own.
Two-thirds of Americans use the same password for multiple accounts. Once that password is guessed or captured, it makes all other accounts with the same password more susceptible to being compromised. Having a strong password for each account limits the potential damage if a hacker happens to get ahold of one of your passwords. 
Save yourself a break-in and think about adding a few more characters to your password today. 
This article was provided by Shazam. Andersen, Nathaniel. "How to Create a Strong Password." SHAZAM, 9 Aug. 2023, www.shazam.net/news/shazam-blog/how-to-create-a-strong-password/.
---
4 Tips to Guide Your Financial Management-Aug. 2023
Old mottos ring true when it comes to your finances
90% of Americans say money impacts their stress level, according to a survey by Thriving Wallet. While this fact may not be new, there are many old sayings about money that can guide people toward wiser financial management.
Four Ways to Enhance Your Finances
Tighten your belt — If your finances have taken control of you, it may be time to take a long, hard look at your budget. Look for items you can cut, such as subscriptions you're not using or no longer need. Tightening your belt may also mean making some lifestyle changes and giving up something, such as cutting back on the number of trips you make to your favorite coffee shop.
Save for a rainy day — An emergency fund can help when unexpected expenses come up. Most experts recommend having three to six months of living expenses in your emergency fund. Building an emergency fund will take the sting out of your finances when the inevitable rainy day arrives.
A penny saved is a penny earned — Saving for the future with a retirement account, such as a 401(k) or IRA, is crucial to ensuring you are financially secure when you're ready to retire. Because these types of accounts earn interest, your account can grow even if you're unable to contribute. And if you contribute regularly, it will grow even faster, earning you more pennies on the pennies you save.
Pay yourself first — Make saving automatic by pledging to pay yourself first. Whether it's adding to your retirement savings, emergency fund or general savings, you will never regret having more money saved for when you need it most.
If you'd like to open a Savings Account or learn more about how to set up automatic transfers, contact our Customer Service Department at 800-714-2287.
These tips were provided by the Iowa Bankers Association.
---
Medicaid: Spotting the scams – July 2023
With the pandemic's health emergency declaration over, the requirement for the state to keep people enrolled in Medicaid has ended. This means people that are eligible for Medicaid must re-enroll in their state's program or find new insurance if they are no longer eligible. When big changes that can affect millions of people arise, scammers will follow. Here's what to know to avoid being a victim of Medicaid fraud:
Medicaid won't charge to renew or enroll. They also won't ask for money or personal information like your credit card or bank account number. Learn more about eligibility for Medicaid in your state at Medicaid.gov.
Visit HealthCare.gov to compare insurance plans, coverage, and prices. Healthcare.gov allows you to compare prices, check eligibility for healthcare subsidies, and begin enrollment. This site will only ask for your monthly income and your age to give you a price quote. If anyone asks for your bank account or credit card number to give you a quote, that's a scam.
Scammers try to sell medical discount plans that are not major medical. Medical discount plans are not a substitute for health insurance, though some plans do give actual discounts. Some of these scam plans charge a monthly fee for supposed discounts but give very little in return. If you're considering one, find out if your doctor participates in the plan and check what coverage it gives for major events.
If you think you've spotted a scam, tell your friends and family about it so they can protect themselves. Then tell the FTC at ReportFraud.ftc.gov and your state attorney general.
This article is a summary of the following: Kando-Pineda, Carol. "Medicaid: Spotting the Scams." Consumer Advice, 27 June 2023, consumer.ftc.gov/consumer-alerts/2023/05/medicaid-spotting-scams.
---
What are Trigger Leads & How Do I Opt-Out? – June 2023
It has been brought to our attention that many of our loan customers are being contacted by lenders from other banks or credit unions, or insurance companies trying to sell them either a better rate or more coverage. These are all caused by the three major credit bureaus (Experian, Trans Union, Equifax) selling your personal information as trigger leads. Below is more information on why this is happening and how to limit the amount of contact you receive from these sources.
What is a Trigger Lead?
John Goranson, CRCM for the Iowa Bankers Association states that "a trigger lead is a marketing product sold by the three major credit bureaus to lenders who are looking for customers with certain specifications like loan types, ZIP codes, or FICO scores". When Washington State Bank has a customer or potential customer ask us to pull their credit report, this signals the major credit bureaus the consumer is shopping for credit. The CRA (Credit Reporting Agencies) will then provide this information to subscribers (lenders, insurance agencies) interested in your information. The goal of the lender or insurance agency is to try and sell you (the consumer) a better rate on the loan you're looking to obtain or more coverage on a current loan.
Are Trigger Leads Legal?
Unfortunately, yes. Under the Fair Credit Reporting Act, trigger leads are legal and are thought to be beneficial to the consumer who is truly shopping for the best rate. We understand these things can be extremely frustrating for our current customers and potential customers who do not want to be contacted about these things. One thing we want to make clear, Washington State Bank will never sell or share your personal information to any third party for marketing purposes.
How Do I Prevent These Contacts from Occurring?
Thankfully, there are ways to lower the amount or completely get rid of the unwanted prescreened solicitations and trigger leads for five years or permanently and it's free. To opt-out of being contacted via email or mail, register at optoutprescreen.com. The consumer should find they have quit receiving emails or mail within one to two weeks. If you want to add your phone number to the Do Not Call Registry, this can be done at donotcall.gov. This site is also free and should take effect within 24 hours, but due to the possibility of the trigger lead occurring before registering, it could take up to 31 days to quit receiving these calls or texts. Unsolicited phone calls and text messages can still occur even after registering from political or charitable organizations, surveys, collection, or spam "information calls".
WSB knows how frustrating these forms of unsolicited contact can be. We hope these tips will help our customers and community members lower the number of times they are contacted. If you have any questions about calls, messages, or mail you have received regarding your loan with Washington State Bank, please call (800) 714-2287 and ask to speak to someone in our Loan Department or stop into your nearest location to speak to a lender today.
---
Scammers Targeting Social Security After Cost-of-Living Increase - May '23
Warning consumers of potential Social Security scams
The Social Security Administration approved a cost-of-living adjustment of 8.7% for 2023 — the largest increase in over 40 years. With such a significant increase, scammers are looking to take advantage. Washington State Bank wants consumers to be aware of potential Social Security scams surrounding the increase, so they can avoid or help loved ones avoid becoming victims.
               According to the Better Business Bureau, the scam involves receiving a phone call, text or email from someone claiming to be a representative of the Social Security Administration who asks you to apply for the cost-of-living increase. They might direct you to a website or ask you to verify personal information, such as name, address and Social Security number. They will then use this information to commit identity theft.
What Consumers Need to Know
The most important information regarding the cost-of-living increase that consumers should be aware of is that it is automatic. There is no need to fill out an application. Additionally, the Social Security Administration will never call, text or email regarding issues with Social Security numbers. Instead, they will mail a letter. They will also never:
Threaten consumers with arrest or legal action.
Suspend your Social Security number.
Ask for personal information or banking details in order to give you an increase in benefits.
It's important for consumers to be suspicious of any such communications. And if you have any doubt at all, hang up the phone, or contact the Social Security Administration at 800-772-1213 directly to verify its legitimacy.
These tips were provided by the Iowa Bankers Association.
---
Too Many Subscriptions?- Apr. '23
There are subscriptions for everything these days. In addition to typical subscriptions like magazines and newspapers, there are now subscriptions to other types of content, such as movies, books, and music as well as services, like yard maintenance. There are even subscriptions to various retail stores and smartphone apps.
With so many subscriptions, it can be easy to sign up for one and lose track of it as you stop using it. That can do some serious damage to your finances. According to a survey from West Monroe, Americans spend an average of $237 per month on subscription services. The survey also found that 84% of respondents underestimated by as much as $400 the amount they were spending on subscriptions.
How to Clean Up Your Subscriptions
Including a review of your subscriptions as part of your annual spring cleaning could save you a lot of money.
Although it may be a daunting task, the best way to review what you're spending each month on subscriptions is to go through your bank and credit card statements. Review each one carefully and determine whether it's a service you still need. Once everything is accounted for, cancel what you're no longer using.
It doesn't end there, however. Some subscription services offer annual payment plans and are set to auto-renew once per year. You can check your mobile phone settings to look for annual renewals. On Android devices, you can do this through the Play Store. On Apple, open Settings, click on your name and check your Apple ID for subscriptions that are managed on your phone.
Once you've reviewed your phone for subscriptions, check for any subscriptions listed on your Amazon account. They could be set up through Amazon directly or through its "Subscribe & Save" feature. Canceling unneeded annual subscriptions can eliminate unnecessary expenses and allow you to save more money.
If you're looking for a quicker way to find any forgotten subscriptions, you can use an app on your mobile device to track them down. These apps will connect to your bank accounts to provide you with a list of services that are being charged to your accounts. Some examples of these helpful apps include Rocket Money, Truebill, PocketGuard and Trim.  
Whatever method you use, cleaning up your subscriptions can benefit your finances in the long run, especially if you find some you can cut out of your budget.
These tips are provided by the Iowa Bankers Association.
---
Protect Yourself from Fraud This Tax Season- Mar. '23
Tax season is stressful enough without having to worry about your personal information getting stolen. Unfortunately, criminals are ramping up their efforts to commit fraud as updated W-2s and tax returns containing personal information circulate over the internet and in the mail. Protect yourself from these threats as you prepare to file your taxes this season by following these tips!
Keep your personal information private. Never provide your Social Security number or bank account information to anyone who contacts you online or over the phone.
Watch out for phishing emails. During tax season, fraudsters often pose as the IRS in phishing emails. Don't be fooled. The IRS never contacts taxpayers via unsolicited email to request personal or financial data. If something seems suspicious, it probably is.
Shred everything. When you're done with your receipts, banks statements and unused credit card offers, make sure you shred them before throwing them away. Keep all tax documents in a secure place.
Report missing mail. Fraudsters look for monthly credit card statements, W-2s, tax refunds or other mail containing your financial information. If you don't receive important documents from your employer or bank, or they appear to have been previously opened, contact your credit card provider, bank and the IRS immediately.
Protect your computer. Make sure the virus protection software on your computer is active and up to date, particularly if you plan to file your taxes online.
Keep an eye on your bank accounts. Watch your WSB accounts regularly for suspicious transactions. If you see activity you don't recognize, contact Washington State Bank immediately.
Incorporating the tips listed above can help ensure that your taxes are filed safely and prevent you from becoming a victim of identity theft. If the IRS does deny your tax return because one has previously been filed under your name, alert the IRS Identity Protection Specialized Unit immediately by calling 800-908-4490.
These tips are provided by the Iowa Bankers Association.
---
Give Your Credit Some Love with the Avalanche Method- Feb. '23
Eliminating debt is one of the best ways you can improve your credit score. It is also easier said than done depending on the amount of debt you've accumulated. If you are feeling smothered by debt, there are simple strategies that can help you dig your way out, such as the avalanche method.
The avalanche method is an accelerated debt repayment plan. Similar to the snowball method, the avalanche method involves paying extra money toward one debt while making minimum monthly payments on all the rest. Once that debt is paid off, you move on to the next. You repeat this process until all debts have been eliminated.
The snowball method requires you to pay off your smallest debt first. The avalanche method, however, targets your debt with the highest interest rate. Eliminating high-interest debt first allows you to pay less in interest as you eliminate your debts.
How to Use the Avalanche Method
The avalanche method can be effective if you stay committed to your repayment plan. A downside to this plan is if your highest interest debt is also your largest debt, it could take a long time before you see results. If you stick with the plan, however, you will save money in the long run. Following are steps to use to employ the avalanche method to your debt repayment strategy.
Make a list of all your personal debts — student loans, auto loans, credit cards, etc. — in order of highest interest rate to lowest.
Adjust your budget so you are making the minimum monthly payment on all bills except for the highest interest debt on the list.
Calculate how much extra you can apply to the highest interest debt to pay it off as quickly as possible.
Once the highest interest debt is paid off, apply the payment you were making on the eliminated debt to the next debt with the highest rate in addition to the minimum monthly payment.
As you pay off each debt, continue to apply the payment to the next highest interest debt until all debts are eliminated.
More Information
If you are struggling with certain debts and need a high impact strategy to get your finances in order, the avalanche method may be something you should consider.
These tips are provided by the Iowa Bankers Association.
---
How To Make Your Money Go Farther In 2023- Jan. '23
Whether the inflation spike has you feeling overspent in the past year or perhaps you recently took a pay cut, you may be looking to make financial changes in 2023. Here is a list of tips to help kick off a year to better spending.
Start Budgeting
The thought of creating a budget can be daunting. Start by using a monthly spending tracker to determine what kind of budget would work for you. There are quite a few free apps available that can help determine where your money goes each month and give you tips on where you can improve.
Automate Your Savings
If you had trouble saving in 2022, change things up now by putting money away at the beginning of each month or pay period rather than waiting to see what you have left. Make this process automatic by setting up regular transfers to your savings account and watch your money grow. If you have a Washington State Bank account, this can be set-up through Online Banking or our Mobile Banking App.
Take Steps to Improve Your Credit
Having a good credit score can mean paying lower interest rates and help you qualify for lower car insurance premiums. Having a credit card in good standings can help build credit responsibly. Be sure to make your payments in full and on time.
Invest in Yourself
In 2023 increases on income limits and contribution amounts for tax-advantaged retirement accounts like 401(k) plans and traditional and Roth IRAs are rolling out. Limits for 401(k) and similar savings plans are increasing to $22,500 in 2022 while IRA contribution limits are increasing to $6,500. Adding to these accounts now will greatly benefit your retirement outlook in the years to come. Once you've determined a budget, you can establish how much you are able to increase your contributions in the new year.
Find Ways to Lower Your Bills
Many budgeting apps can help point out monthly subscriptions you may have forgotten about. Cancelling these monthly charges will increase your overall cash flow. There are also some bills you may be able to adjust and lower in 2023, like your phone plan. It's important to do your research to determine the best option for you.
This article is a summary of the following:
Farrington, Robert. "How to Make Your Money Go Farther in 2023." Forbes, Forbes Magazine, 28 Dec. 2022, https://www.forbes.com/sites/robertfarrington/2022/12/28/how-to-make-your-money-go-farther-in-2023/?sh=58194c964481.